15 Best Minecraft Car & Vehicle Mods for 2022: Download Now for a More Immersive Experience!
In the world of Minecraft, there is a serious lack of vehicles and moving objects currently available in the base game. If you've been missing out on the ability to drive or even build your own vehicles in Minecraft, we have the perfect list for you.
Some of the best Minecraft car mods offer realistic physics, weapons features, and even the ability to transport items from one location to the next. Vehicles in Minecraft can provide a lot of immersion to your game. You can use vehicles to travel around, explore, reach friends bases, transport items or just use them for display. So without further ado, let's jump into our 15 Best Minecraft Car & Vehicle Mods!
These mods add all sorts of new vehicles to the game, from cars and trucks to tanks and airplanes. With these mods, the possibilities are endless!
15 Best Minecraft Car & Vehicle Mods to Download for 2022: Realistic Physics, Weapons Features, and More
If you're looking for the best 15 Minecraft Car & Vehicle Mods to download in 2022, look no further! In this blog post, we will discuss mods that add realistic physics, weapons features, and more. Vehicles can provide a lot of immersion to your game, and we believe that these 15 mods are the best of the best. So without further ado, let's get started!
Here's our list of the 10 best Minecraft car mods of all time:
1. Ultimate Car Mod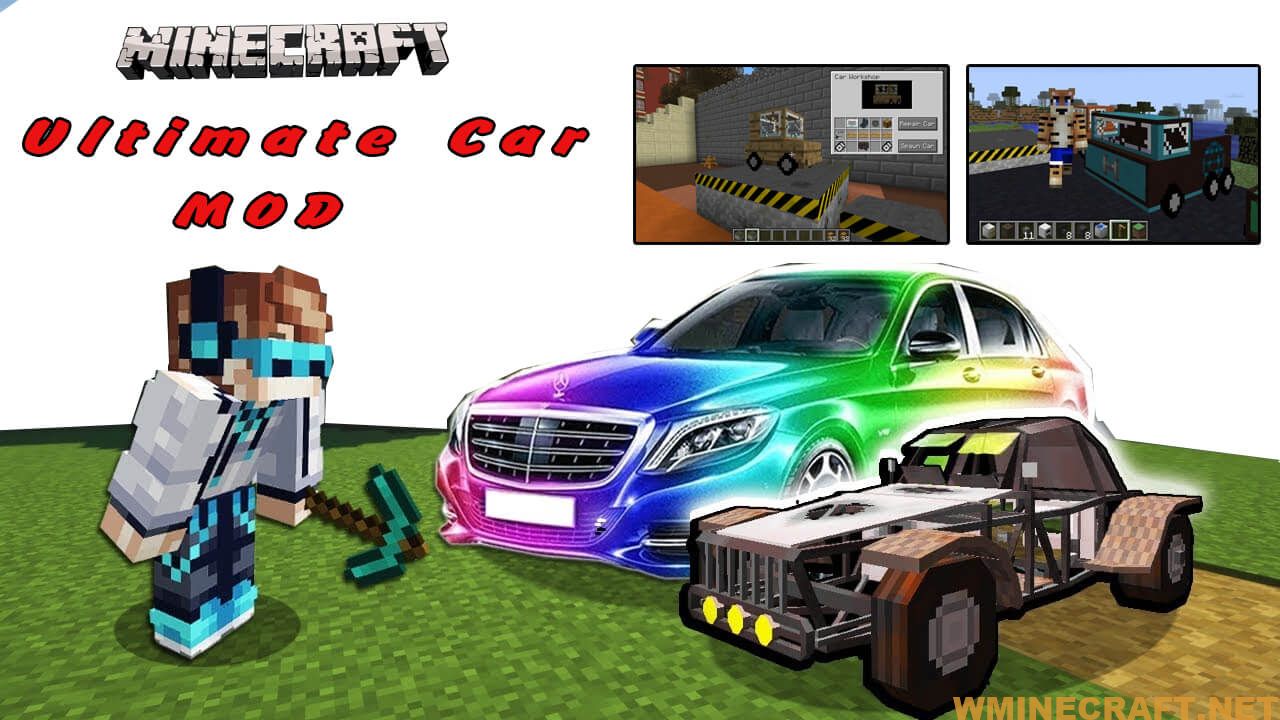 The Ultimate Car Mod is a combination of realistic physics controls with great 3D graphics to create the best car simulator. You can find cars in different colors, or if you want something more traditional go ahead and choose one out their available trucks that has an extra spacious back tank where players will be able transport everything from one place too another!
Well, there were three aspects of this mod that really stood out to me, and how they made my experience more enjoyable.
The customization of cars in this mod is very expansive, being able to build cars of all sorts of colors, materials, and even custom roads!
Speaking of the roads, this mod adds tons of types, with bunches of road signs and markers to go along with it!
Of course you need fuel to drive a car, and this mod offers loads of different machinery and methods in order to get your engine revving!
Version Minecraft 1.18.2 – 1.10.2 Get the mod
Showcase:
2.WMATM Vehicles
WMATM is a fantastic car mod for Minecraft that includes traditional vehicles like blocks, as well as other types of automobiles. In addition to these classics there are motorcycles and even airplanes! You can fly them all around your world in survival mode or take advantage when traveling across it on foot by getting into one with the saddlebags equipped so you don't have too far walk from place-to ride out any adventures together, Included below I've listed some notable features about this incredible work done by its developers:
This mod actually includes an in-game driver's license system, requiring players to obtain a license before owning and operating vehicles, including classic cars and planes.
Check out this mod for yourself, with the link here! (Game Version: 1.8,1.9, 1.10.2…)
Relative: 9 Super Exciting Minecraft Survival Servers
3. UNU Military Vehicles
UNU Military Vehicles is a great way to add some variety and flavor into your game. It includes tons of different vehicles, like jeeps or military style trucks complete with weapons! You can even use this mod's large gun if you want – it works well alongside other mods such as Immersive Railroading too!.
Currently, UNU Military Vehicles is compatible with Minecraft versions 1.10, 1.11, and 1.12.
This mod has the following requirements:
Minecraft Transport Simulator
UNU Parts Pack
Immersive Railroading (Optional)
Check out this mod for yourself, with the link here! (Game Version: 1.10, 1.11, and 1.12.2)
4. MTS Heavy Industrial Content pack
When you're looking for ways to expand your game, adding more trucks might be the answer. The MTS Heavy Industrial Content pack has everything from brand new vehicles and blocks that can create any type of transport needed in games like ours – trucking!
Planned high detail vehicles:
– Multiple semi trailers for different types of loads for peterbilt 379 and other semi trucks
– Antonov 225 mrija – (work in progress, 50% finished)
– Tiger II german tank (after tanks get implemented)
– Mi 26 helicopter
– Open pit mine Bagger 288 excavator (after excavation physics get implemented)
– Very large, heavy tracked mining drill
– Caterpillar 6020b excavator
Check out this mod for yourself, with the link here! (Game Version:  1.12.2)
5. SoggyMustache's Transportation Mod
Soggy mustache's transportasian mod was another simple yet highly enjoyable experience. It has less customization options than the previous two entries, but it makes up for that with vehicle variety!
There are quite a few vehicles in this particular authorative and long lasting creation which weren't accessible through any other means besides downloading their own custom firmware onto your PSVs' internal storage space; giving gamers access only they could enjoy–and boy did these designers deliver on such an important point: Yeah…you do get what you pay fot here because every single mode (whether ground or air) comes equipped accordingly depending upon
Features:
The snowmobile! It's a little out there in terms of a mod, but it's extremely fun to zip through the snow super fast on one of these.
Ever wanted to pick up and move objects but not the normal, boring way? The forklift will solve that problem, it's a small vehicle but has a ton of use for moving blocks around!
Lastly, the hovercraft! It's super cool to be able to slide around on land and over the water, and makes for a really useful method of transport around your world!
When you install the mod you will have a plethora of new vehicles at your disposal. You can race them against your friends or you can just straight of move around your world faster than you would with a horse. Get the mod (1.12.2 – 1.10.2 – 1.9)
6. Traincraft Mod
Traincraft is a unique, fun mod for Minecraft that adds fully blown steam trains to the game. There are tons of different types and designs with all their own features! Not only this but you can lay out your very own train tracks too using ramps or bridges as needed – it's everything any lover could hope for in one package (and more!). Traincraft is compatible with Minecraft Forge up to 1.7.10. We're working hard on getting the mod updated to the latest Minecraft release but this will take some time.
Get the mod (1.17.10 – 1.10.2)
7. The RC Mod
The remote-control mod adds some awesome variety into the game. You don't get to ride in vehicles themselves, but they're still super fun! There are tons of different types for you choose from and it's easy enough that anyone can use them with no prior experience or expertise at all – which is great if this will be your very first time playing Minecraft mods on PC !
Small, remote-controlled vehicles are great for a change of pace from crafting larger and more complex machines. You can actually see what your RC car is doing while you're controlling it! This means that these little guys might be perfect as an infiltration or spying tool – adding even greater fun to whatever task at hand may need one less thing on our plates…
The RC Mod v4 includes:
RC Trainer Plane
RC Car
RC Boat
RC Helicopter
RC Drone (quad)
RC F-22 Raptor with missiles
RC Submarine with missiles
RC Stunt Plane
RC Octocopter
RC Racer
And more to come!
For Minecraft 1.15.2 and 1.12.2 download here.
8. Cars Mod (xujmod)
The Cars Mod adds a whole new layer to Minecraft by bringing you cars! You can now drive around town in your own little electric joyride, or head out into the wilds and find some old school steel-belted radials on dirt roads. The previous mods have been mostly aesthetic but this one is more similar MTS Heavy Industrial Contentpack which added realistic trucks so it's definitely different than all of them combined – plus there are plenty other goodies like weapon skins too if that interests ya'll at any point during gameplay
9. Fex's Vehicle and Transportation Mod
Fex's Vehicle and Transportation Mod is an excellent mod that adds tons of features to your game. Instead, it acts as a base for other mods like cars or trucks which can add even more fun! For example: the vehicles have realistic physics but there's also some extra things in this version so you'll enjoy playing with them even more than before – I found myself getting lost on how much content these developers came up with just by adding one little update (xujmod).
Mod requires installation by mod:
Players can now add a range of vehicles to their games, from classic cars and trucks all the way up through planes. This mod does not include actual vehicle modules but instead provides players with robust driving mechanics for adding in anything they like!
Check out this mod for yourself, with the link here!
10. Immersive Vehicles Mod
Immersive Vehicles is a fantastic mod for Minecraft that offers an entirely new vehicle collection and plenty of cool features. Once installed, players can enjoy realistic physics with all these vehicles in addition to playing around within your world by using their own imagination!
When I was younger, my dad used to take me out in his truck every weekend. It was such a great way for us both – he could enjoy some time with friends while giving me something fun that we would drive around town looking at all the different places people live their lives and exploring what life might be like if there were more room inside your house than on any given day!
These memories are some of my most cherished ones because they remind why it is so important not just see this world but get messy living right here among its beauties too…
11. Supercar Mod
Welcome to Supercar Mod for Minecraft! In this article, we will show you how to install the mod and give you a brief overview of its features.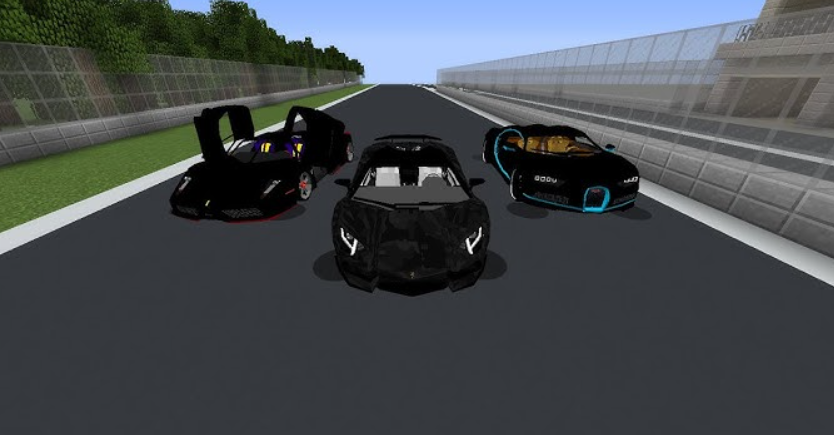 The Supercar Mod allows players to own a variety of powerful and sleek supercars. The installation process is easy, and we will guide you through it step by step. So don't waste any more time – let's get started!
Once you have installed the mod, you can start driving your new supercar around town. The mod includes a variety of different cars, each with its own unique set of features. You can race against your friends or simply cruise around in style.
List:
– Lamborghini Huracán
– Lamborghini Murciélago LP670 SV
– Lamborghini Aventador LP 740-4
– Mercedes Benz G63 AMG
– Mercedes Benz S65 AMG
– Rolls Royce Phantom
– Audi Q7
– Audi RS4
– Audi R8 DTM
– Ferrari Enzo
– Ferrari Enzo FXX
– Ferrari F40
– Ferrari Testarossa (Miami Vice)
– Ford Model T2 1926
– Renault Magnum Truck (DHL/Maersk)
– Renault Magnum Tipper
– Excavator
– Porsche 911 (991) Turbo S
– Porsche 911 (991) Carrera S
– Porsche 911 (991) 911 S
– Porsche 911 (991) GT3 RS
– Bugatti Chiron
– Chopper
– Sauber C9
– Nissan Skyline GT-R V-Spec II
12. Carry On Mod
When Carry On Mod was released, it revolutionized the way people played Minecraft. With just the press of two buttons, players could easily pick up blocks and chests and place them wherever they wanted. This made the game much easier and more fun to play.
Many people were excited about this new mod and started using it right away. Some even said that it made the game a whole new experience. Overall, Carry On Mod was very well-received by the Minecraft community. Download Carry On Mod
13. Ultimate Car Mod
When Carl heard about the new Ultimate Car Mod for Minecraft, he was excited to try it out. He loved the idea of being able to drive around in a car in the game, and he was looking forward to seeing all the new possibilities that the mod offered.
He started by downloading and installing the mod, then he set up a biodiesel production plant. Based on the real-world process of biodiesel production, this plant would allow him to make his own fuel for his car. With everything set up, he was ready to start driving around in style!
Features:
– Added Cars
– Added Off road vehicles
– Added Motorcycles, Trikes, & Bicycles
– Added Trucks
– Added Fuel & Fuel stations
– Added Garage for vehicles storage
– Added Dirt roads to drive on – with offroad tracks & trails (useful for offroad vehicles)
– Removed the Nether dimension – The mod is now based on vanilla Minecraft dimensions (the overworld, nether and the end). A big thanks goes to all users who helped us improve this mod and provide ideas.
14. Simple Planes Mod
You've always wanted to fly, and Simple Planes Mod is the perfect mod for you! Simple Planes Mod 1.18.2, 1.17.1 adds into a game an exceptional kind of vehicle, which is a plane; but don't be fooled and think it's just another ordinary plane mod as this particular mod adds into your game a new set of aesthetic planes which are known to be one of the first flying machines ever invented.
these planes come with a very straightforward mechanic as well as simple crafting recipe so that players could enjoy flight-craft without going through much trouble; Simple Planes Mod guarantees to satisfy player needs by having planes while not overhauling the game completely – making it the perfect mod for those who want to experience flight without any complications.
15. Cars and Drives Mod 
As the sun began to set, I looked out over my new creation. The world was my canvas and with this mod, I could create anything I wanted. Cars and Drives would allow me to make cars in Minecraft, with which I could move around the world in style. The mod would enable us to craft a total of nine vehicles, including cars and vans, Drive Jeeps, sports cars and even Ferraris. It adds in a working vehicle into Minecraft and a faster way of transportation.
I couldn't wait to test it out. I hopped in my new Ferrari and hit the gas. The engine roared as I sped down the road, the wind blowing through my hair. This was what freedom felt like. With a car at my disposal, I could go anywhere I wanted, whenever I wanted.
No more waiting for buses or walking long distances. With Cars and Drives, life just got a lot easier.
Get the mod (1.8-1.7.10)
There are many mods that can be installed in Minecraft to change the way vehicles work. Here are five of the best:
1. The first mod is called Speedster. It allows players to drive faster and makes it easier to turn around corners.
2. The next mod is called Car Mods. This one adds a variety of new cars to the game, including a sports car, a van, and a pickup truck.
3. Another popular mod is called TNT Cars. This one allows players to blow up their cars by pressing a button. It's perfect for those who want some excitement while driving!
4. The next mod is called Vehicle Armor Mod. It adds armor to vehicles so they can withstand more damage when crashing into other objects or mobs.
5 Finally, the last mod on our list is the Driveable Boat Mod. This one allows players to drive boats just like they would cars, making it much easier to navigate through bodies of water."
All current Roblox promotional codes for October 2022
Roblox promotional codes are frequently a source of entertaining character accessories. The greatest method to add to your collection of customisation options utilizing codes is to make your avatar stand out with a t-shirt, cap, or equippable accessories and even weapons.
Roblox items typically cost Robux, which for many gamers means spending real money. But there are lots of Robox coupons available that, when used, let you customize your avatar a little bit without paying any money. Although many codes have come and gone over the past 16 years, there are still plenty that you may use today, and new ones are, of course, consistently added.
Current Roblox Coupon Codes
You may use the following active promo codes in Roblox right now:
SPIDERCOLA – Spider Cola shoulder pet
TWEETROBLOX – The Bird Says shoulder pet
Roblox Island of Moves codes:
StrikeAPose – Hustle Hat
GetMoving – Speedy Shades
SettingTheStage – Build It Backpack
WorldAlive – Crystalline Companion
VictoryLap – Cardio Cans
DIY – Kinetic Staff
Roblox Mansion of Wonder codes
FXArtist – Artist Backpack
ThingsGoBoom – Ghastly Aura waist
ParticleWizard – Tomes of the Magus shoulders
Glimmer – Head Slime accessory
Boardwalk – Ring of Flames waist
List of expired codes
This collection of expired Roblox promotional codes is the last one. The codes listed below are invalid. As a result, if you try to input a code and it is shown below, it is not working because it has expired.
!HAPPY12BIRTHDAYROBLOX!
RIDERS
$ILOVETHEBLOXYS$
100MILSEGUIDORES
100YEARSOFNFL
200kTWITCH
75KSWOOP
AMAZONFRIEND2021
AMAZONNARWHAL2020
ARGOSWINGS2020
BARNESNOBLEGAMEON19
BEARYSTYLISH
BIHOOD2020
CARREFOURHOED2021
COOL4SUMMER
DRRABBITEARS2020
EBGAMESBLACKFRIDAY
ECONOMYEVENT2021
FASHIONFOX
FEEDINGTIME
FINDTHEKEYS
FLOATINGFAVORITE
GAMESTOPBATPACK2019
GAMESTOPPRO2019
GLIMMER
GOLDENHEADPHONES2017
GROWINGTOGETHER14
HAPPY2019ROBLOX
HAPPYCAMPER
HEADPHONES2
HOTELT2
JOUECLUBHEADPHONES2020
JURASSICWORLD
KCASLIME
KEEPIT100
KINGOFTHESEAS
KROGERDAYS2021
LIVERPOOLSCARVESUP
MERCADOLIBREFEDORA2021
MLGRDC
MOTHRAUNLEASHED
ONEMILLIONCLUB!
RETROCRUISER
ROADTO100KAY!
ROBLOXEDU2021
ROBLOXIG500K
ROBLOXROCKS500K
ROBLOXSTRONG
ROBLOXTIKTOK
ROSSMANNCROWN2021
ROSSMANNHAT2020
SMYTHSCAT2021
SMYTHSHEADPHONES2020
SMYTHSSHADES2019
SPACESTYLE
SPIDERMANONROBLOX
SPIRIT2020
STARCOURTMALLSTYLE
SXSW2015
TARGET2018
TARGETFOX2020
TARGETMINTHAT2021
TARGETOWLPAL2019
THISFLEWUP
TOYRUBACKPACK2020
TOYRUHEADPHONES2020
TRUASIACAT2020
TWEET2MIL
WALMARTMEXEARS2021
WALMARTMXTAIL2020
WEAREROBLOX300!
How to use Island Of Move discount coupons
Launch Island of Move in order to use your Island of Move codes. Once you're in the game, click the "Redeem Code" button by selecting the green character next to the words "PLAY IT!" After that, enter each Island of Move code one at a time.
How to use Mansion of Wonder discount coupons
You must first start the game Mansion of Wonder in order to use Mansion of Wonder codes. After that, use the codes at the in-game Swag Booth.
How to use codes for Sonic Speed Simulator
To redeem Sonic Speed Simulator codes, launch the experience and enter the in-game shop. On the left-hand side of the screen you'll see a Redeem Codes option; from there, simply plug your code into the Enter Code text box and click Redeem to reap your rewards!
How to acquire free Roblox clothing and things
In addition to discount codes, Roblox offers more than 100 things that you may have for nothing by visiting their website in the Avatar Shop and clicking Get. Here is a list of every single one we can currently locate:
In-game prizes on Roblox
Game awards are the last free cosmetic item source in Roblox. On the platform, certain games provide players rewards for achieving certain goals. This can involve completing a specific mission, winning the game as a whole, or simply starting it up.