9 Biggest Changes Of Spider-Man Compared To Himself In Comic Introduction
It can hardly be denied that Spider-Man is currently the most popular and beloved superhero. There are up to three movie franchises created to follow his exploits. Also, he has appeared in countless movies and multiple comic books released every month. However, many people do not know that the Spider-Man they know and are very familiar with actually has changed a lot compared to his first version in the comic book debuted in 1962.
If you feel curious about it, scroll down to see how many changes he has made over the years. If you love this post, please like and share it with your friends.
#1 Spider-Man Is No Longer An Outcast
While Peter Parker in the comic Amazing Fantasy #15 was described as a person having no friends and being the joke of other kids, Spider-Man in 2021 has a lot of friends. He even becomes roommates with one of his biggest bullies in flash Thompson.
#2 Spider-Man has changed from a teenager to a mentor.
When Spider-Man first started, he was just a boy not knowing what he was doing. He needed a lot of help, and then he was trained by Iron Man. But now, he has become a mentor. He is the oldest person in his group of friends having spider powers. He is appointed by Tony Stark to mentor a group of super-geniuses. It means he has changed from a boy to an adult, a responsible adult.
#3 His Aunt, May, Has Become Stronger
The 1962 comic said that Spider-Man was raised by his uncle Ben and his aunt May. After his uncle passed away, he always tried everything to help Aunt May, who, at that time, was very ill. Mabe, it is the Spider-Man's love that helps his aunt improve her health. She is now running a homeless shelter and is much stronger than years before.
#4 Spider-Man Is Cursed
Mephisto has cursed Spider-Man and has always tried to ruin his life. This is the recent change that comes to his life. However, Spider-Man seems not to know about it until Dr-Strange realizes that the bad luck in his life wasn't coincidental.
#5 Spider-Man's Spider-Totem
If you still think that Spider-Man appeared after a spider bit Peter Parker and changed him from an awkward teenager to a superhero, we're afraid that isn't really what happened. Actually, there are spider-powered heroes in every universe and they are all connected through the spider-totem. Therefore, it wasn't an accident that made Peter a Spider-Man. That was what happened as his fate.
#6 Spider-Man Has Become A Team Player
Source:
#7 Peter Parker's Business Sense
#8 Spider-Man Reconciles With J. Jonah Jameson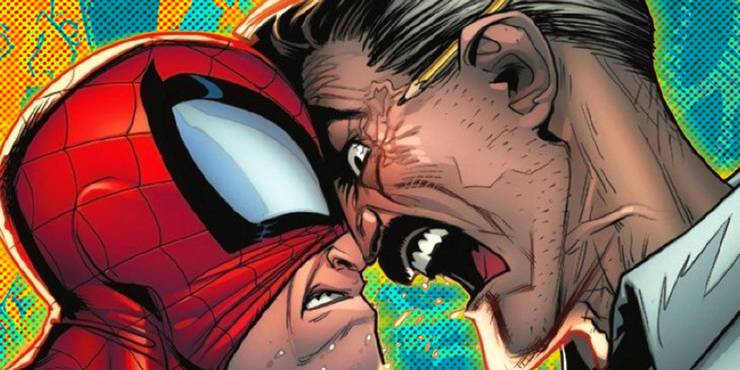 #9 Spider-Man Is Less Moral
35 Actors Who Brilliantly Starred In Both Dc And Marvel
Conducting numerous films based on their own comic books, DC and Marvel always need actors and actresses to help their products to be successful. Since the two studios dominate the movie world, they all can attract many superstars or help turn lesser-known actors into more popular ones. Thus, many names seek opportunities there to take on leading roles or cameos.
And as no rule prevents you from enjoying DC and Marvel at the same time, so here is the list compiling celebrities who participated in both of these universes comes! From David Harbour to Michelle Pfeiffer, they all had brilliant cooperations with the two companies! Having comic books and film rivalries, but these franchises share a large number of the cast!
Therefore, let's scroll down to check our compilation out! I am sure that it involves many well-known performers who you love! So, let's unveil the file together!
#1 Tommy Lee Jones in Captain America: The First Avenger and Batman Forever
Source: Marvel Studios, Warner Bros
#2 Adewale Akinnuoye-Agbaje in Thor: The Dark World and The Suicide Squad
Source: Marvel Studios, Warner Bros
#3 Djimon Hounsou in Guardians of the Galaxy, Constantine, Aquaman, and Shazam
Source: Marvel Studios, Warner Bros
#4 Laurence Fishburne in Ant-Man and the Wasp and Daily Planet
Source: Marvel Studios, Warner Bros
#5 Pom Klementieff in Avengers: Infinity War and The Suicide Squad
Source: Marvel Studios, Warner Bros
#6 Sylvester Stallone in Guardians of the Galaxy Vol. 2 and The Suicide Squad
Source: Marvel Studios, Warner Bros
#7 Michael Rooker in the Guardians franchise and The Suicide Squad
Source: Marvel Studios, Warner Bros
#8 Sean Gunn in Rocket Raccoon, Guardians of the Galaxy, and The Suicide Squad
Source: Marvel Studios, Warner Bros
#9 Christian Bale at the 26th Annual Screen Actors Guild Awards and in The Dark Knight Rises
Source: Marvel Studios, Warner Bros
#10 Jared Leto in Morbius and The Suicide Squad
Source: Marvel Studios, Warner Bros
#11 Zachary Levi in Thor: The Dark World and Shazam
Source: Marvel Studios, Warner Bros
#12 Ben Mendelsohn in Captain Marvel and The Dark Knight Rises
Source: Marvel Studios, Warner Bros
#13 Rachel Weisz in Black Widow and Constantine
Source: Marvel Studios, Warner Bros
#14 Tilda Swinton in Avengers: Endgame and Constantine
Source: Marvel Studios, Warner Bros
#15 Randall Park in Ant-Man and the Wasp and Aquaman
Source: Marvel Studios, Warner Bros
#16 Chris Pine in Spider-Man: Into the Spider-Verse and Wonder Woman 1984
Source: Marvel Studios, Warner Bros
#17 Angela Bassett in Black Panther and Green Lantern
Source: Marvel Studios, Warner Bros
#18 Brian Tyree Henry in Spider-Man: Into the Spider-Verse, Eternals, and Joker
Source: Marvel Studios, Warner Bros
#19 Zazie Beetz in Deadpool 2 and Joker
Source: Marvel Studios, Warner Bros
#20 Josh Brolin in Avengers: Endgame, Deadpool 2, and Jonah Hex
Source: Marvel Studios, Warner Bros
#21 Michael Fassbender in X-Men: Apocalypse and Jonah Hex
Source: Marvel Studios, Warner Bros
#22 Joe Manganiello in Spider-Man and Zack Snyder's Justice League
Source: Marvel Studios, Warner Bros
#23 Willem Dafoe in Spider-Man and Aquaman
Source: Marvel Studios, Warner Bros
#24 Taika Waititi in Thor: Ragnarok, Green Lantern, and The Suicide Squad
Source: Marvel Studios, Warner Bros
#25 Ryan Reynolds in Deadpool 2 and Green Lantern
Source: Marvel Studios, Warner Bros
#26 Idris Elba in Thor and The Suicide Squad
Source: Marvel Studios, Warner Bros
#27 Michael Keaton in Spider-Man: Homecoming and Batman
Source: Marvel Studios, Warner Bros
#28 Tom Hardy in Venom and The Dark Knight Rises
Source: Marvel Studios, Warner Bros
#29 James Marsden in X2 and Superman Returns
Source: Marvel Studios, Warner Bros
#30 Halle Berry in X2 and Catwoman
Source: Marvel Studios, Warner Bros
#31 Michelle Pfeiffer in Ant-Man and the Wasp and Batman Returns
Source: Marvel Studios, Warner Bros
#32 Ben Affleck in Daredevil and Batman
Source: Marvel Studios, Warner Bros
#33 J.K. Simmons in Spider-Man and Justice League
Source: Marvel Studios, Warner Bros
#34 David Dastmalchian in Ant-Man and the Wasp, The Dark Knight, and The Suicide Squad
Source: Marvel Studios, Warner Bros
#35 David Harbour in Black Widow and The Suicide Squad
Source: Marvel Studios, Warner Bros